CHILDER WOOD PRODUCTS
Our aims in managing Childer Wood are

~ To manage the woods to the highest possible silvicultural, environmental and aesthetic standards
~ To operate a viable commercial enterprise
~ To maintain and improve bio diversity and timber production
~ To offer high quality training opportunities in horse logging and woodland management
~ To provide a safe, tranquil and pleasant environment for wildlife, work, training and leisure.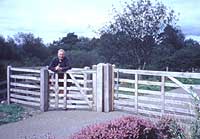 All primary extraction is by horse. Felling and other works are undertaken by skilled local contractors led by Peter Harmer.
All timber and timber products are certificated as sustainably produced by the Forestry Stewardship Council (FSC) having been independently inspected and evaluated.
FSC Certificate number;
CU-FM/COC-806403

Value addition is sought at every stage, mobile milling and on site processing ensures minimal transportation with the production of high quality, cost competitive timber being the emphasis.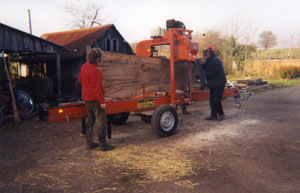 We produce a wide range of timber and timber products
~ Sawn Oak gates and posts, furniture, structures and timber frames
~ Cleft Oak and chestnut fencing, gates and hurdles
~ Softwood poles for fencing, gardens and estate work
~ Cedar sawn shingles and Oak and Chestnut cleft shingles
~ Chainsaw sculptures from stock or to your specification
~ Sawn softwoods, Norway Spruce, Pine, Douglas Fir and Larch, either from stock or to order.
Choosing suitable timber for indoor or outdoor use by species and quality allows us to avoid the need for inappropriate use of heavy metal and poison based preservatives which have become the 'standard' of most builders' yards and garden centres. By offering durable and better alternatives we avoid unnecessary contamination of the ground, our environment, ourselves and the people around us.
~ We advise on timber type and use
~ We offer a wide selection of sawn timbers from stock or milled to order
~ We design, deliver, erect and install and help with instructions and advice
~ We can, of course, just sell you some excellent quality timber straight from the wood.
For firewood, charcoal and chain saw carvings orders please contact Peter Harmer direct on 07974 703044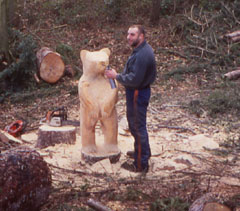 For more pictures >>click here>>
Four styles of pedestrian gates